The latest episode of Big Brother Naija Reunion saw Tochi shut any one who interrupted him during an argument between him and Ka3na over the portion of food he was getting in the BBNaija Lockdown house from Ka3na.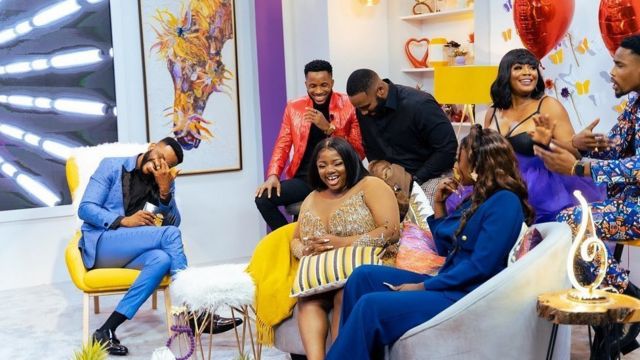 'Stop talking, just shut up!' – Tochi vs Ka3na

According to him, Ka3na was biased in portions of food she served housemates while Ka3na retorted that it was either that he usually came late to get food or other housemates dropped their plates before he came.

There were a handful of times he implied Ka3na was lying about her side of the story and told her to shut up. Even when Lucy tried to interject in order to make a point over the matter, she got her own 'shut up' from Tochi.
'Somebody was waiting to greet me!' – Tochi vs Dorathy

According to Ka3na, Tochi was also getting small portions because he kept going about with other housemates instead of coming for his food early since he wasn't part of any clique in the house.

That's when Dorathy got dragged into the mix as Tochi, addressing the clique talk, said he heard 'somebody was waiting for me to greet them' at which point Dorathy stepped in and asked him to say her name rather than throw subs since he was referring to her.
Both housemates then got into a shouting match with Tochi and Dorathy basically telling each other not to talk to the other 'like that' while Ebuka, other housemates and probably all viewers kept watching them in amusement and waiting for when they would be done with their expletives-filled rants.

'You're talking nonsense. Arrant nonsense!' – Tochi vs Lucy

Still on the matter of Tochi not being part of a clique, Lucy was telling show host, Ebuka, that he was following the clique of Vee, Neo, Ozo and Nengi, even though he was not included in the clique.
That point got Tochi pissed off as he told Lucy she was talking nonsense as he was not even following them around and wondered why she would even drag them into the discussion, asking if other people were not moving around and whether he came into BBNaija house to be a statue.
'Prince came and comforted her but she didn't let me touch her' – Tochi vs Dorathy again
Dorathy's issue with Tochi was she would greet him first and she felt he was always waiting to be greeted first. Tochi then gave an instance of a time he once approached her and she blatantly brushed off the attention he wanted to give her.
According to Tochi, it was the day Ka3na was evicted from the house and he noticed she was very hurt so he came around to comfort her, only for Dorathy to ask him not to touch her 'like I'm the one that pushed Ka3na out of the house. However, Prince came into the room moments later and to Tochi's shock, Dorathy allowed him to comfort her.
How did you see Tochi's reaction to everyone he confronted on the show? Was he over-reacting? Share your thoughts in the comment section.